Want to understand and reduce environmental effects on human health?
Master's Degree Programme in Environmental Health and Technology is a highly multidisciplinary and research oriented programme, aiming at combining comprehensive understanding of human exposure and health effects with technological solutions to reduce the effects.
Focus is on environmental agents such as air pollutants, ionizing and non-ionizing radiation and chemicals as well as methods needed to produce meaningful risk assessment from such information. 
This study program is suitable for students who wish to pursue a career in environmental health research, consulting or in environmental health agencies and for those who are interested in pursuing doctoral studies in environmental sciences.
For instructions on how to apply and a direct link to the application form on Studyinfo, please scroll down. The application period is open until 18 January 2023.
Key information
Level of degree: Master's degree
Programme duration: 2 years / 120 ECTS credits
Language of instruction: English
Application period: 4.1.2023 - 18.1.2023
Programme start: September 2023
Tuition fee: EU/EEA nationals no tuition fee; non-EU/EEA nationals 8,000 €/academic year
Tuition waivers available for everyone
Study campus: Kuopio
Why study with us?
This highly multidisciplinary and research oriented programme gives you a solid foundation to pursue a career in environmental health research, consulting or in environmental health agencies or to pursue doctoral studies in environmental sciences.
General Courses on Environmental Health and Technology cover core courses on wide range of environmental health related topics including exposure assessment, environmental risk assessment, advanced occupational hygiene and green chemistry.
The curriculum of this programme (120 credit points, ECTS) consists of advanced studies of the main subject (environmental science), minor subject studies, and alternative studies. Practical training in research institutes or other relevant work places (max 10 Cp) can be included in the degree.  The programme consists of lectures, exercises, book exams and hands-on training in research groups. Students will achieve comprehensive knowledge in at least one specialized area of research (air pollutants, aerosols, radiation, and water), generic core competencies for scientific research, and skills to apply field-specific methods in the laboratory. 
The Masters thesis includes an experimental element. The aim is to improve the students skills in data collection, data analysis and to evaluate the students ability to report and discuss the observed results scientifically in relation to existing data and knowledge.  In the beginning of the studies, a personal study plan (PSP) shall be prepared for each student with the assistance of the teacher tutors. In order to facilitate the preparation of the PSP, the courses are organised in modules based on their subject and level (basic/advanced).  Practical training in research institutes or other relevant work places (max 10 Cp) can be included in the degree.  
General structure of studies 
MSc studies in ENHET programme 120 Cp (ECTS):
Advanced studies in Environmental science min. 80 Cp
Personal study plan 1 Cp 
Alternative studies min. 33 Cp
Language and communication studies 6 Cp 
In addition to the general courses, we offer the following study modules for advanced knowledge on the following topics:
Air Pollutants, Aerosols and Health module provides advanced knowledge in indoor and outdoor air pollutants, especially fine and nanoparticles, their sources, emission control technologies, health outcomes and risk assessment. This module is ideal if you wish to pursue a career in environmental administration, environmental regulatory agencies, private sector or research.
Radiation module includes courses on biological effects and health risks of radiation, including both ionising and non-ionising radiation.  All approaches of environmental health research are used, including in vitro studies, animal studies, epidemiology and exposure assessment. This kind of combination of courses and research provides a unique possibility to become a radiation biology specialist.
Water module specializes on water quality and technology topics including water hygiene and microbial risk assessment, conventional and most up-to-date purification technologies, prevention of water pollution and recovery of the valuable resources. The study environment includes a unique water laboratory which offers excellent facilities for the simulation of even pilot-scale purification processes. This study package is suitable for students who wish to pursue a career in water monitoring, regulatory agencies and companies dealing with water treatment or research. ​
An eligible applicant should have at least a lower university degree (BSc) in environmental or biological sciences, obtained at an internationally recognized and accredited university or higher education institution. In addition to these basic requirements, studies in human biology, as well as physics or chemistry during the bachelors studies are expected from the applicant.
The degree should entitle the applicant to apply to Master's studies in the country where the degree has been awarded. In addition,  In case, the applicant has not yet received a Bachelors degree certificate by the admission deadline, he/she is required to submit an officially certified copy of his/her latest transcript of records during the application period. If the applicant receives the degree certificate and the final transcript of records during the application period it is recommended to submit them as soon as possible. 
Applicants are ranked according to the selection criteria. 10 best applicants are accepted and the rest are rejected. There is no waiting list.
Applicants must demonstrate excellent skills of English language. English language proficiency can be proven with official Test of English as a Foreign Language (TOEFL), International English Language Testing System (IELTS), Cambridge Advanced/Proficiency Examination (C1, C2),  Pearson Test of English (PTE) test score report, or National Certificate of Language Proficiency (YKI-test). 
Minimum requirements: 
TOEFL (iBT): 92
IELTS (academic), also IELTS Indicator: 6.5
PTE (academic): 62
C1 Advanced (former CAE): C
C2 Proficiency (former CPE): Level C1
National Certificate of Language Proficiency (YKI): level 5 in the reading comprehension, writing, and speaking sections
Students will be exempt from submitting the official language proficiency test if they have
English as part of Finnish matriculation examination
International Baccalaureate with English as A language
Studies as exchange student at the University of Eastern Finland
Secondary education conducted in one of the Nordic countries (Denmark, Finland, Iceland, Norway or Sweden)
Secondary education, Bachelor's, Master's or higher degree conducted in English language in an EU or EEA country, in Australia, Canada, Ireland, New Zealand, United Kingdom, Switzerland or United States 
More information about submitting the language test reports here.
Online application form is required to be submitted by 18.1.2023 (studyinfo.fi) and the required enclosures can be uploaded electronically to the application until 25.1.2023. Incomplete or delayed applications will not be considered. 
Required enclosures to the application form
A certified copy of Bachelors degree certificate or temporary degree certificate and translation of it, or a statement concerning the expected date of graduation
The official course transcript (not needed if submitted electronically)
Letter of motivation
Certificate or proof of English language skills.
Curriculum vitae (CV) of the applicant.
A copy of passport's information page or a copy of an official ID card,
Optional but recommended: Abstract of BSc thesis in English. 
UEF Admission verifies applicants' language skills according to the programme-specific requirements, and processes applicants' educational certificates. This includes verifying the authenticity of the educational documents as well as credential evaluation.
The admission processes aim at fair selection of highly motivated and skillful applicants. Student selection will be based on the application documents and evaluation how the applicants skills and competences gained by the previous academic studies correspond to the Master´s studies applied. Also the success in earlier studies and the motivation letter will be taken into account in the selection process. Meeting the minimum application requirements does not guarantee acceptance to the programme.  See country-specific requirements here.
Applications will be graded based on the applicants 
suitability and content of the previous studies (0-5)
success in previous studies of the suitable field of science (0-5)
motivation to apply for studies (0-5) 
If the applicant scores 0 p in any of the components, the application will not be processed further. 
Announcement of the student selection results 
The decision will be announced 31.3.2023 at the latest and the applicants will be notified of their acceptance / rejection after that. The students who have been accepted are required to formally accept their study place by 14.7.2023.
The Notification of admission is sent to the applicants only by email to the address given in the application form. Rejected applicants will be informed by email.  See admissions results here.
Tuition fees will be collected from citizens outside the European Union (EU) and the European Economic Area (EEA) or Switzerland, starting their studies in Masters degree programmes conducted in English.
You will not need to pay the fee if you are:
EU/EEA citizen or their family member (spouse/child) equivalent to EU/EEA citizens (i.e. citizen of Switzerland)
already reside in Finland or some other EU country on a permanent basis (continuous (A) or permanent (P/P-EU) residence permit type), or have an EU Blue Card
are enrolled in Doctoral/PhD level studies and research
exchange student, regardless of the citizenship
have started your Masters degree studies before autumn 2017 
The tuition fees in this programme is 8 000 euros. For students, the tuition fee will remain the same throughout the entire time of completing their degrees.  
The tuition fee covers the studies included in the degree (personal study plan), studies-related supervision and counselling, and studies-related supporting services offered by the university. In addition, students are entitled to the services of the Finnish Student Health Service by paying the membership fee of the Student Union. The university assists students in finding accommodation. 
Tuition waivers are awarded for two academic years to all selected applicants who are responsible to pay tuition fee. The tuition fee waiver covers the tuition fee partially (70 %).  
General information about the tuition waivers and scholarships is available here.
Application period 2023
Our application period is open from 4 January 2023 to 18 January 2023. The application is completed and submitted online.
Apply via Studyinfo
Studyinfo.fi is the official national admissions portal with all the up-to-date information about study programmes leading to a degree in Finland.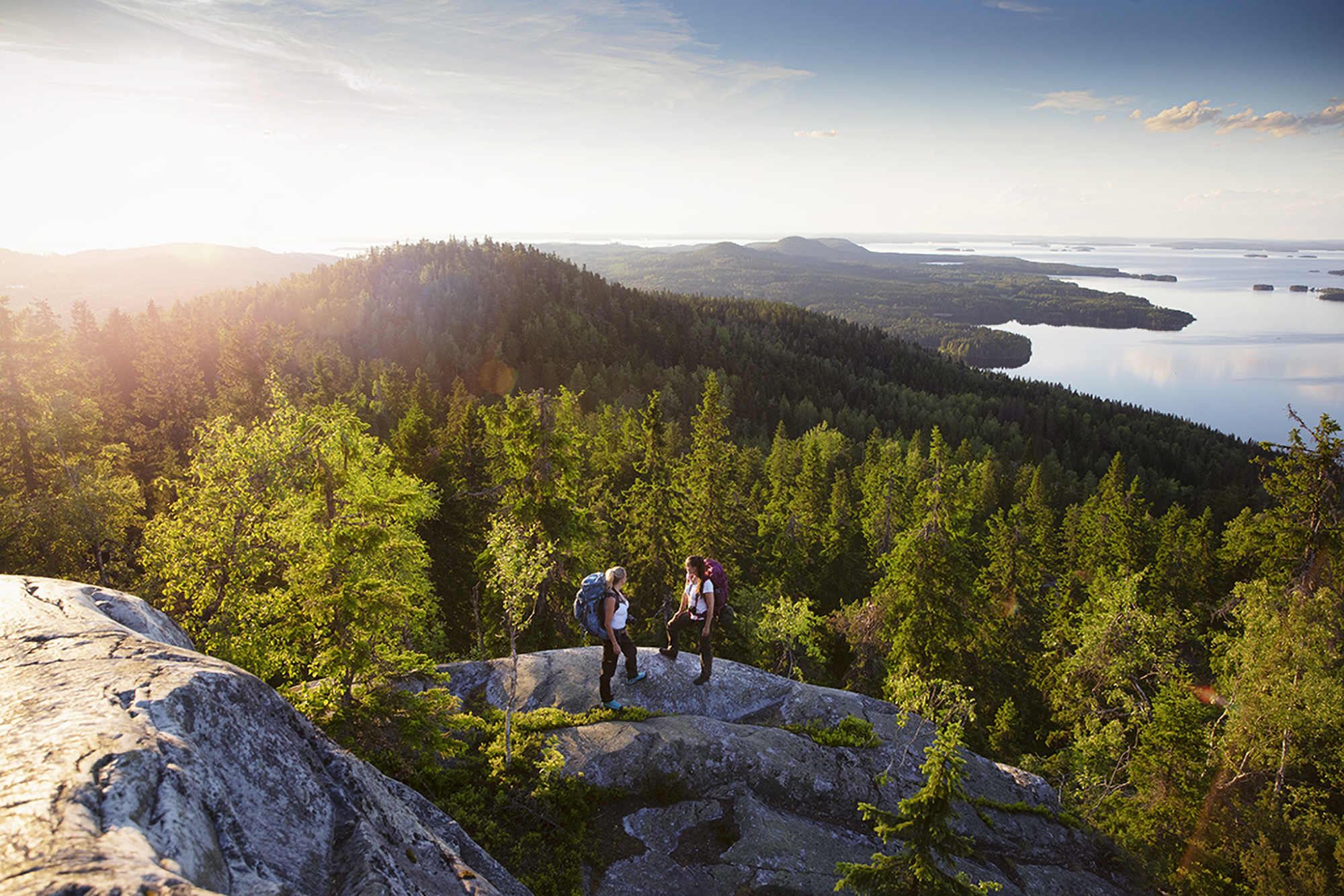 Finland Scholarship
Finland Scholarship
UEF will grant a Finland Scholarship for the best two applicants in each Master's degree programme. The scholarship includes a 100% tuition waiver and a € 5 000 relocation grant.
Student stories
Learn more about studying at the UEF, our university and its campuses, and life in Finland!